---




CONCERT EXCEPTIONNEL / EXCEPTIONAL CONCERT





23 novembre 2018 / 23rd of November 2018





Saint-Antoine des Quinze-Vingts, Paris






Ce concert a reçu le soutien de la Mission du centenaire de la Première Guerre mondiale. / This concert is supported by the Centennial Mission of the First World War.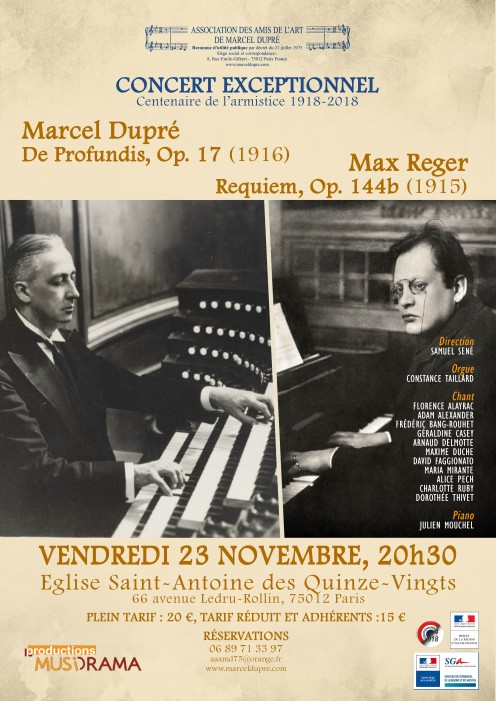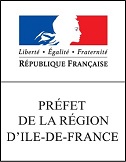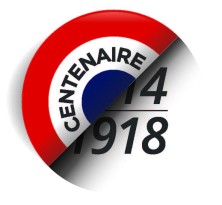 *******





Musique pour piano / Music for piano



Si le piano occupe une place non négligeable dans l'œuvre de Dupré, il concerne avant tout la première partie de sa carrière musicale, pendant laquelle il a écrit relativement peu pour l'orgue. Un nouveau disque de Disques FY & du Solstice nous permet de découvrir cet aspect moins connu du génie de Marcel Dupré. Cette musique est un excellent exemple de la maîtrise du piano par Dupré et des œuvres qu'il a lui-même jouées en concert. François-Michel Rignol interprète de Dupr&eacute les Variations en ut dièse mineur, op. 22, Six Préludes, op. 12, Quatre Pièces (Etude, Cortège et Litanie, Chanson et Air de Ballet), op. 19, Gracieuse (pour quatre mains) et Berceuse. Ce disque présente également un enregistrement remarquable, jamais entendu jusqu'à présent, de la fille de Dupré, Marguerite, jouant la Ballade, Op. 30 pour piano et orgue avec Pierre Cochereau. Marguerite, elle-même une merveilleuse pianiste dont la virtuosité et la musicalité l'ont placée parmi les meilleurs pianistes de sa génération, a donné de nombreux concerts avec son père lors de ses tournées de récitals et a fait ses débuts américains avec cette pièce qu'il a composée spécialement pour qu'ils se produisent ensemble lors de ces occasions. Ce disque est disponible à partir de l'A.A.A.M.D. et peut être commandé via le bon de commande (code 350148).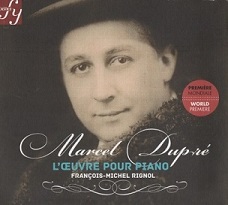 If the piano occupies a not insignificant place in Dupré's œuvre, it concerns above all the first part of his musical career, during which period he wrote relatively little for the organ. Now a new CD release from Disques FY & du Solstice allows us to discover this lesser-known aspect of the genius of Marcel Dupré. This music is a splendid example of Dupré's mastery of the piano and of works which he himself performed in concert. François-Michel Rignol plays Dupré's Variations en ut dièse mineur, op. 22, Six Préludes, op. 12, Quatre Pièces (Etude, Cortège et Litanie, Chanson and Air de Ballet), op. 19, Gracieuse (for four hands) and Berceuse. This CD also presents a very special recording, never heard until now, of Dupré's daughter, Marguerite, playing the Ballade, Op. 30 for piano and organ with Pierre Cochereau. Marguerite, herself a marvellous pianist whose virtuosity and form put her among the best pianists of her generation, gave many concerts with her father during his recital tours and made her American debut with this piece he composed specially for them to perform together on these occassions. This disc is available from the A.A.A.M.D. and can be ordered through the order form (code 350148).



*******



En 2015, l'A.A.A.M.D. a publié avec UMG les enregistrements de Marcel Dupré au Ford Auditorium, à Saint-Thomas, Saint-Sulpice et Saint-Ouen en 1957, 1959 et 1965.
Le coffret de 10 disques compacts a remporté le Diapason d'Or.
Après avoir réalisé en mai 2016 une émission avec un magnifique programme dédié à ces enregistrements, Michael Barone (Pipedreams) continue de nous séduire avec une nouvelle émission comprenant deux enregistrements de ce coffret : Final Op. 27 n° 7 et Carillon Op. 27 n° 4 de Dupré, tous les deux enregistrés à Saint-Sulpice en 1959.
Les bandes originales ont été complètement restaurées par Tom Fine, qui a utilisé un procédé moderne tout à fait révolutionnaire, nous permettant d'entendre Dupré comme jamais auparavant. Le jeu de Dupré est exceptionnel et nous entendons l'orgue de Saint-Sulpice avec une remarquable clarté.

Le coffret est en vente par l'A.A.A.M.D., et huit des disques compacts sont également disponibles individuellement.
Vous pouvez trouver toutes les informations pour écouter ces émissions en cliquant sur Pipedreams.
Ou si vous préférez les écouter à partir d'un mobile.

In 2015, the AAAMD reissued with UMG the recordings of Marcel Dupré at the Ford Auditorium, St Thomas, Saint-Sulpice and Saint-Ouen in 1957, 1959 and 1965.
The box set of 10 CDs won the award Diapason d'Or.
After broadcasting in May 2016 a wonderful programme dedicated to these recordings, Michael Barone (Pipedreams) continues to seduce us with a new broadcast featuring two recordings from the box set: Dupré's Final Op. 27 No. 7 and Carillon Op. 27 No. 4, both recorded at Saint-Sulpice in 1959.
The original tapes have been completely restored by Tom Fine, who used a revolutionary modern process, allowing us to hear Dupré as never before. Dupré's playing is exceptional and we hear the organ of Saint-Sulpice with remarkable clarity.

The box set can be purchased from the AAAMD, and eight of the CD's therein are available individually.

You can find all information to listen to these broadcasts by cliking on Pipedreams.
Or if you prefer to listen to them on a mobile device.



---

Dans la rubrique Nouveautés / News

Disque compact comprenant la musique pour piano interprétée par François-Michel Rignol.

Coffret de 10 CD comportant les enregistrements entièrement restaurés de Marcel Dupré, de 1957 (New York, Detroit), 1959 (Saint-Sulpice) et 1965 (Saint-Ouen de Rouen).
Ce coffret a obtenu le DIAPASON D'OR.


In the rubric Nouveautés / News

CD with the music for piano played by François-Michel Rignol.

Box set of 10 CD's with the recordings completely restored with Marcel Dupré of 1957 (New York, Detroit), 1959 (Saint-Sulpice) and 1965 (Saint-Ouen, Rouen).
This box set has obtained the DIAPASON D'OR.



---


Retrouvez-nous sur Facebook / See our Facebook page
---

Vous pouvez, désormais, commander disques compacts, livres, bulletins... en ligne, et régler directement par PayPal.

Henceforce, it is possible to order CD's, DVD, books, bulletins on line and to pay with Paypal.